University of California
The California Backyard Orchard
Backyard Orchard News
UC Integrated Pest Management Program (UC IPM) staff distributed ladybugs (actually lady beetles, but when you say ladybugs, someone is sure to ask "Aren't those LADYBUGS?") at Briggs Hall during the recent UC Davis Picnic Day.
A welcome gift, indeed.
We placed our two little beneficial buddies on a yellow rose rose bush, "Sparkle and Shine," purchased last year during the Rose Weekend sponsored by the UC Davis-based California Center for Urban Horticulture (CCUH), part of the College of Agricultural and Environmental Sciences.
"Eat," we said. "Eat aphids."
Ladybugs don't always do what they're told. Sometimes they fly away.
However, the yellow roses are gorgeous. They remind me of "The Yellow Rose of Texas," a song--and flower--so loved by my Texas-born mother. "So pretty," she'd say.
Which bring us to this: CCHU's 2014 Rose Weekend is set Saturday, May 3 and Sunday, May 4 at the Foundation Plant Services, 455 Hopkins Road, UC Davis. CCHU kindly hosts this fundraiser just before Mother's Day to make gift-giving easier. The two-day event includes rose sales, bus tours of the Foundation Plant Services' eight acres of roses, and informational sessions on roses--everything you've always wanted to know about roses but didn't know who to ask.
Admission is free. Also free: a rose for each guest while supplies last. In addition, CCHU will offer for sale copies of the popular UC IPM book, "Healthy Roses." The bus tours of the eight-acre rose field will take place every 30 minutes, from 12:30 to 3:30 p.m., both Saturday and Sunday.
The schedule:

Saturday, May 3:
10 a.m. to 4 p.m.: Rose sale
12:30 p.m. to 3:30 p.m.: Rose field tours
Speakers:
10 a.m. to 11 a.m.: Peter Boyd, noted Rosarian
11 a.m. to noon: Christian Bedard, rose breeder
--UC Master Gardeners' booth for questions and answers
--Rose Tissue Culture Information Booth
Sunday, May 4:
10 a.m. to 4 p.m.,: Rose sale
12:30 to 3:30 p.m.: Rose field tours
UC Master Gardeners' booth for questions and answers
What roses will be offered for sale? Well, the Secret's Out. Yes, that's one of the roses. The others carry equally enticing names: Cherry Parfait, Cinnamon Dolce, Eternal Flame, Dark Knight, Love's Paradise, Paradise Found (I didn't know it was lost), Passionate Kisses, and Sunshine Daydream.
The colors? Among them: Luscious reds, brilliant golds, and pure-as-the-driven-snow whites. You can download an online catalog to help you with your selections. Some roses are All-American Rose Selections (AARS). To be selected, a rose is evaluated for two years under no-spray conditions, and must meet strict criteria for superior disease resistance, fragrance and flower color, according to CCHU director Dave Fujino and program manager Anne Schellman.
They're also provided a handy rose dictionary on their website for those unfamiliar with roses:
English-style roses: Roses with dense petals that possess a strong fragrance. David Austin roses are English roses.
Floribunda: Medium-sized flowers in a "spray" of blossoms. Compact plants that are smaller and "bushier" than hybrid teas.
Grandiflora: Largest rose plant, has hybrid tea-style roses in small clusters of 3-5. Stems can be used for cutting.
Hybrid tea: One large flower per stem. Plant is medium to tall. Stems can be used for cutting.
Polyantha: A bushy plant with vibrant flowers
Whether they're English-style, floribundas, grandifloras, hybrid teas, or polyanthas, everything will be coming up roses on May 3 and 4.
Contact information:
Anne Schellman
aschellman@ucdavis.edu
530-752-6642

A ladybug foraging on a yellow rose, Sparkle Shine. (Photo by Kathy Keatley Garvey)
A ladybug foraging on a yellow rose, Sparkle Shine. (Photo by Kathy Keatley Garvey)
Beekeepers and almond growers are concerned--and rightfully so--about the some 80,000 bee colonies that died this year in the San Joaquin Valley almond orchards. In monetary terms, that's a loss of about $180,000. But the loss isn't just financial. It could have long-term effects.
Beekeepers believe that pesticides killed their bees after the almond pollination season ended but just before they could move their bees to another site. This is a serious blow to both industries. Growers need the bees to pollinate their almonds. Now some beekeepers are vowing this is it; they'll never to return for another almond pollination season.
Extension apiculturist Eric Mussen of the UC Davis Department of Entomology and Nematology talks about the issue in his latest edition of from the uc apiaries, published today on his website.
"When should the colonies be allowed to leave the orchards?" he asks. "When pollination no longer is happening. That does not mean that the bees should remain in place until the last petal falls from the last blossom."
"Why might beekeepers desire to move their hives out of the orchards 'early?' Once the almonds no longer provide nectar and pollen for the bees, the bees find replacement sources of food. Unfortunately, those sources may be contaminated with pesticides that almond growers would never use when the bees are present. Some common pests that surge right near the end of almond bloom include Egyptian alfalfa weevil larvae and aphids in alfalfa, and grape cutworms in vineyards. Delayed dormant sprays sometimes are being applied in other deciduous fruit orchards, even when the trees are in bloom. Often blooming weeds in the crops are attracting honey bees. If the year is really dry, the bees may be attracted to sugary secretions of aphids and other sucking bugs."
Mussen says it's "not difficult to see that accidental bee poisonings often happen. Despite our California regulations requiring beekeepers to be notified of applications of bee-toxic chemicals within a mile of the apiaries, bees fly up to four miles from their hives to find food and water. That is an area of 50 square miles in which they may find clean or contaminated food sources. Thus, growers whose fields are 'nowhere near' any known apiary locations may accidentally kill many bees with chemical applications."
"It seems," Mussen says, "that a combination of exposures of colonies to truly bee-toxic insecticides, followed by delayed effects of exposure to fungicide/IGR mixes during bloom, really set the bees way behind. The problem proved so severe that a number of beekeepers stated that they were never returning to California for almond pollination. That is not a good thing, since we really don't have too many colonies coming to almonds as it is."
In his newsletter, Mussen goes into depth about when and how bees pollinate the almonds and what could be causing the problem and how it can be resolved.
His take-home message? "Our honey bees cannot continue to be exposed to as many toxic agricultural products as they are, or we will not have enough bees to fill the pollination demand for our nuts, fruits, vegetable, forage and seed crops."
That's serious business.

A honey bee packing pollen as it forages on almonds. (Photo by Kathy Keatley Garvey)
A honey bee packing pollen as it forages on almonds. (Photo by Kathy Keatley Garvey)

Almond growers need bees. Without bees, there would be no almonds. (Photo by Kathy Keatley Garvey)
Almond growers need bees. Without bees, there would be no almonds. (Photo by Kathy Keatley Garvey)
Could it be--a bee?
Yes, that's the metallic green sweat bee, also called an ultra green sweat bee, Agapostemon texanus. This one (below) is a female. Males and females are easily distinguishable. The female is all green, from head to thorax to abdomen, while the male (right) is green on the head and thorax but not on the abdomen.
Native pollinator specialist Robbin Thorp, emeritus professor of entomology at UC Davis, talked about them at the recent UC Davis Pollinator Gardening Workshop, sponsored by the California Center for Urban Horticulture.
The Agapostemon are members of the Halictinae family. They are "often called sweat bees because in hot weather they are attracted to human perspiration, which they lap up, probably for the salt it contains," according to the book, Bees of the World, by Christopher O'Toole and Christopher Raw.
Some of the family's many genera, including Agapostemon, are restricted to the New World. Halictus and Lasioglossum "are common to the Old and New Worlds," the authors write.
Coreopsis, also called tickseed or coreopsis, is a genus of flowering plants in the family Asteraceae.
We spotted the female metallic green sweat bee at the Loch Lomond Marina, San Rafael. We captured the image of the male several years ago on a seaside daisy at the Mostly Natives Nursery, Tomales.
Green sweat bees will be among the bees featured in the book, "California Bees and Blooms: A Guide for Gardeners and Naturalists," to be published in the fall of 2014 by Heyday Press. It's the work of Gordon Frankie of UC Berkeley; Robbin Thorp of UC Davis; photographer Rollin Coville of the Bay Area; and Barbara Ertter of UC Berkeley. It will contain nearly 30 of the most common bee genera in California.
Frankie, Thorp, Coville and Ertter (and others) also published "Native Bees Are a Rich Natural Resource in Urban California Gardens" in California Agriculture.

Female metallic green sweat bee, Agapostemon texanus, on coreopsis. (Photo by Kathy Keatley Garvey)
Female metallic green sweat bee, Agapostemon texanus, on coreopsis. (Photo by Kathy Keatley Garvey

Female metallic green sweat bee peers at the photographer. (Photo by Kathy Keatley Garvey)
Female metallic green sweat bee peers at the photographer. (Photo by Kathy Keatley Garvey) Keatley Garvey)
UC President Janet Napolitano and the President's Advisory Commission visit KARE on April 14, 2014. The stated purpose of the visit was to meet with the PAC to discuss issues facing agriculture and to visit KARE and learn more about what we do and the importance of our research and outreach. The President learned about the work we are doing to control mosquitos (Anton Cornel), our work to support small farmers and the blueberry industry (Manuel Jimenez), the use of AF36 to control aflatoxin in pistachios (Themis Michailides), and the importance of rootstocks (Louise Ferguson). The President and her PAC were engaged and enthusiastic about their visit to the Center. We also shared information on what we are doing to conserve energy and provided a general field tour. The Fresno Bee wrote an article on the visit.

Anton Cornel shares information on his mosquito control research program with the UC president and her advisory commission.

Manual Jimenez discusses his blueberry research and extension program with the UC president and her advisory commission.

Themis Michailides discusses his work on AF36 with the UC president and her advisory commission.

Louise Ferguson discusses the importance of rootstocks with the UC president and her advisory commission.

Robert Ray and Jeffery Dahlberg discussed Kearney's energy conservation strategies and different field research projects conducted at KARE with the UC president and her advisory commission.
UC President Janet Napolitano received an in-depth briefing on California agriculture Monday (April 14), seeing firsthand the effects of the drought and learning about the university's efforts to help farmers increase water efficiency and improve crop yields.
From Oakland, Napolitano took an aerial tour over the Sacramento-San Joaquin River Delta and across the Central Valley, viewing how California's vast heartland faces low reservoirs, brown hills and fallowed fields.
She then met with her top agricultural advisers — the President's Advisory Commission on Agriculture and Natural Resources. They convened at the Kearney Agricultural Research and Extension Center in Parlier to discuss the impact of UC's research in agriculture and how to engage all 10 campuses in making UC the "go-to" institution in the world for all issues related to food, including sustainability and nutrition.
Napolitano acknowledged that UC already does much but can do more. California's $45 billion agricultural industry leads the nation, with UC research playing a key part: developing new crop varieties, supplying rootstock for healthy plants, providing best management practices and finding sustainable solutions to the toughest challenges.
"We are teaching the next generation of food scientists and we are researching how to make sure there is a sustainable food supply for the world," Napolitano said.
Kearney, 15 miles southeast of Fresno, is one of nine research and extension centers run by UC's Division of Agriculture and Natural Resources, serving as a base for dozens of scientists from UC Berkeley, UC Davis and UC Riverside and UC Cooperative Extension advisors and specialists. Kearney supports research on 45 crops from grapes to walnuts and studies issues from irrigation to mosquito management, with facilities including greenhouses, insectaries and postharvest labs, Director Jeff Dahlberg said.
Integral to farming
UC Cooperative Extension advisors and specialists are "a very integral part of our farming," said Don Bransford, a rice, prune and almond grower who chairs the President's Advisory Commission on Agriculture and Natural Resources.
"I know who my advisor is — they're the experts," he said.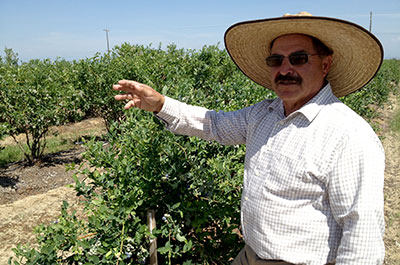 The postharvest facility is "extremely important" in helping to document food safety, added commission member Joel Nelsen, president of the California Citrus Mutual.
A field tour highlighted two crops in which UC has played a pivotal role: blueberries and pistachios.
Twenty years ago, few blueberries were grown in California. Blueberries were considered a cool-weather crop, but UC Cooperative Extension advisor Manuel Jimenez had a hunch they could grow here. He tested different varieties and found that blueberries could thrive by acidifying the soils and maintaining acidic conditions in the irrigation water. California is now one of the leading producers of fresh blueberries, with growing concentrated in the Central Valley.
"Blueberries love warm weather," said Jimenez, who retired last year but still conducts blueberry research.
Pistachios have become an increasingly important crop, valued above $1 billion a year. The United States is the world's leading pistachio producer, and 99 percent of the country's crop comes from California. Half of all pistachios in California are grown on rootstock taken from the mother pistachio tree at Kearney, said UC Cooperative Extension specialist Louise Ferguson.
UC research has helped ensure the safety of pistachios through biological controls, said Themis Michailides, a UC Davis plant pathologist based at Kearney.
Napolitano noted that she made the ANR vice president a direct report to her because agricultural issues matter to California and the world.
Dealing with drought
Those issues include the drought. UC is putting its expertise to work, hosting 35 drought workshops in the past two months alone for farmers, ranchers and homeowners, said Doug Parker, director of UC ANR's California Institute for Water Resources, who served as a tour guide for the president.
UC researchers have come up with recommendations to help farmers minimize water use while maximizing production, said UC Cooperative Extension advisor Roger Duncan. Still, it's estimated that up to 10 percent of California's farmland could be fallowed, primarily in the San Joaquin Valley.
"A lot of lower-value crops just won't be planted," Duncan said.
The daylong briefing reinforced how UC is at the forefront of issues facing California agriculture, said Barbara Allen-Diaz, UC vice president for ANR.
"It's great to see the incredible depth and breadth of California agriculture, and show the link between UC research and extension and the development of agriculture in the state," Allen-Diaz said.
/aside>/h4>/h3>/h3>

UC President Janet Napolitano discusses California agriculture on an aerial tour with farmer Don Bransford, who chairs the President's Advisory Commission on Agriculture and Natural Resources. credit: Doug Parker