University of California
The California Backyard Orchard
Posts Tagged: drought
In case you've forgotten amid all the horn-blowing, champagne-sipping and singing of "Auld Lang Syne," the search is still on to collect the first cabbage white butterfly (Pieris rapae) of 2015 in the three county-area of Yolo, Sacramento and Solano.
So, pull on your boots, gather your posse, grab your nets and head off to where you think a cabbage white butterfly might be. That would include vacant lots, fields and gardens where its host plants, weedy mustards, grow.
Butterfly expert Arthur Shapiro, distinguished professor of evolution and ecology at the University of California, Davis, has sponsored the annual contest, "Beer for a Butterfly," since 1972. If you collect the first one, and it's verified by judge Shapiro, you'll win a pitcher of beer or its equivalent.
Professor Shapiro says it's too cold out for the cabbage white to fly. "Both yesterday (Thursday, Jan. 1) and today (Friday, Jan. 2) were too cold for even the 'hibernator' Vanessas to come out," he said. "I don't expect rapae before AT LEAST the 13th. By the way, the prognosis looks quite dry through mid-January, but the 90-day outlook is quite wet. In late September, I forecast 130 percent of average rainfall for the season. I'm sticking with that."
Shapiro not only knows butterflies but he knows the weather. His opinion of what's happening with the California weather? (Heavy rains, flooding, heavy rains, flooding.)
"It's a drought. We'd need at least 150 percent, better 200 percent of average seasonal rainfall to get the reservoirs to the point where water managers could undeclared the drought," he said in an email today. "But even if we got that--say with a series of Pineapple Express storms--prudence would dictate releasing some of the inflow to make room for more. It's a crap shoot. This is California, where booms and busts are born. By the way, the snow level has been high so far, so even though the snow is Sierra cement and has a high water content, the pack is mostly above 7500', so the area is pretty small (look at a satellite photo) and no part of the Sierra is carrying more than 50 percent of its seasonal storage capacity."
The "Beer for a Buttterfly" contest is all part of Shapiro's four-decade study of climate and butterfly seasonality. "It is typically one of the first butterflies to emerge in late winter. Since 1972, the first flight has varied from Jan. 1 to Feb. 22, averaging about Jan. 20."

Shapiro says his long-term studies of butterfly life cycles and climate "are especially important to help us understand biological responses to climate change. The cabbage white is now emerging a week or so earlier on average than it did 30 years ago here."

Shapiro, who is in the field more than 200 days a year, usually wins his own contest. He knows where and when to look. In 2014, he netted the winning butterfly at 12:20 p.m. Tuesday, Jan. 14 in West Sacramento, Yolo County. It ranked as "the fifth or sixth earliest since 1972."
The contest rules include:
It must be an adult (no caterpillars or pupae) and be captured outdoors.
It must be brought in alive to the department office, 2320 Storer Hall, UC Davis, during work hours, 8 a.m. to 5 p.m., Monday through Friday, with the full data (exact time, date and location of the capture) and your name, address, phone number and/or e-mail. The receptionist will certify that it is alive and refrigerate it. (If you collect it on a weekend or holiday, keep it in a refrigerator; do not freeze. A few days in the fridge will not harm it.)
Shapiro is the sole judge.
Shapiro has been defeated only three times since 1972. And all were his graduate students. Adam Porter defeated him in 1983; and Sherri Graves and Rick VanBuskirk each won in the late 1990s.

Shapiro maintains a website on butterflies, where he records the population trends he monitors in Central California. He and biologist/writer/photographer Tim Manolis co-authored A Field Guide to Butterflies of the San Francisco Bay and Sacramento Valley Regions, published in 2007 by the University of California Press.

Cabbage white butterfly on catmint. (Photo by Kathy Keatley Garvey)
Cabbage white butterfly on catmint. (Photo by Kathy Keatley Garvey)
UC President Janet Napolitano received an in-depth briefing on California agriculture Monday (April 14), seeing firsthand the effects of the drought and learning about the university's efforts to help farmers increase water efficiency and improve crop yields.
From Oakland, Napolitano took an aerial tour over the Sacramento-San Joaquin River Delta and across the Central Valley, viewing how California's vast heartland faces low reservoirs, brown hills and fallowed fields.
She then met with her top agricultural advisers — the President's Advisory Commission on Agriculture and Natural Resources. They convened at the Kearney Agricultural Research and Extension Center in Parlier to discuss the impact of UC's research in agriculture and how to engage all 10 campuses in making UC the "go-to" institution in the world for all issues related to food, including sustainability and nutrition.
Napolitano acknowledged that UC already does much but can do more. California's $45 billion agricultural industry leads the nation, with UC research playing a key part: developing new crop varieties, supplying rootstock for healthy plants, providing best management practices and finding sustainable solutions to the toughest challenges.
"We are teaching the next generation of food scientists and we are researching how to make sure there is a sustainable food supply for the world," Napolitano said.
Kearney, 15 miles southeast of Fresno, is one of nine research and extension centers run by UC's Division of Agriculture and Natural Resources, serving as a base for dozens of scientists from UC Berkeley, UC Davis and UC Riverside and UC Cooperative Extension advisors and specialists. Kearney supports research on 45 crops from grapes to walnuts and studies issues from irrigation to mosquito management, with facilities including greenhouses, insectaries and postharvest labs, Director Jeff Dahlberg said.
Integral to farming
UC Cooperative Extension advisors and specialists are "a very integral part of our farming," said Don Bransford, a rice, prune and almond grower who chairs the President's Advisory Commission on Agriculture and Natural Resources.
"I know who my advisor is — they're the experts," he said.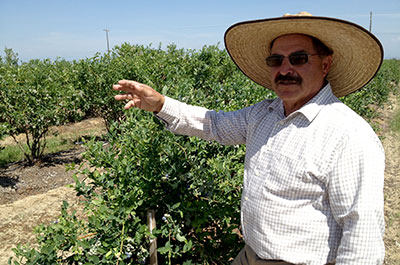 The postharvest facility is "extremely important" in helping to document food safety, added commission member Joel Nelsen, president of the California Citrus Mutual.
A field tour highlighted two crops in which UC has played a pivotal role: blueberries and pistachios.
Twenty years ago, few blueberries were grown in California. Blueberries were considered a cool-weather crop, but UC Cooperative Extension advisor Manuel Jimenez had a hunch they could grow here. He tested different varieties and found that blueberries could thrive by acidifying the soils and maintaining acidic conditions in the irrigation water. California is now one of the leading producers of fresh blueberries, with growing concentrated in the Central Valley.
"Blueberries love warm weather," said Jimenez, who retired last year but still conducts blueberry research.
Pistachios have become an increasingly important crop, valued above $1 billion a year. The United States is the world's leading pistachio producer, and 99 percent of the country's crop comes from California. Half of all pistachios in California are grown on rootstock taken from the mother pistachio tree at Kearney, said UC Cooperative Extension specialist Louise Ferguson.
UC research has helped ensure the safety of pistachios through biological controls, said Themis Michailides, a UC Davis plant pathologist based at Kearney.
Napolitano noted that she made the ANR vice president a direct report to her because agricultural issues matter to California and the world.
Dealing with drought
Those issues include the drought. UC is putting its expertise to work, hosting 35 drought workshops in the past two months alone for farmers, ranchers and homeowners, said Doug Parker, director of UC ANR's California Institute for Water Resources, who served as a tour guide for the president.
UC researchers have come up with recommendations to help farmers minimize water use while maximizing production, said UC Cooperative Extension advisor Roger Duncan. Still, it's estimated that up to 10 percent of California's farmland could be fallowed, primarily in the San Joaquin Valley.
"A lot of lower-value crops just won't be planted," Duncan said.
The daylong briefing reinforced how UC is at the forefront of issues facing California agriculture, said Barbara Allen-Diaz, UC vice president for ANR.
"It's great to see the incredible depth and breadth of California agriculture, and show the link between UC research and extension and the development of agriculture in the state," Allen-Diaz said.
/aside>/h4>/h3>/h3>

UC President Janet Napolitano discusses California agriculture on an aerial tour with farmer Don Bransford, who chairs the President's Advisory Commission on Agriculture and Natural Resources. credit: Doug Parker